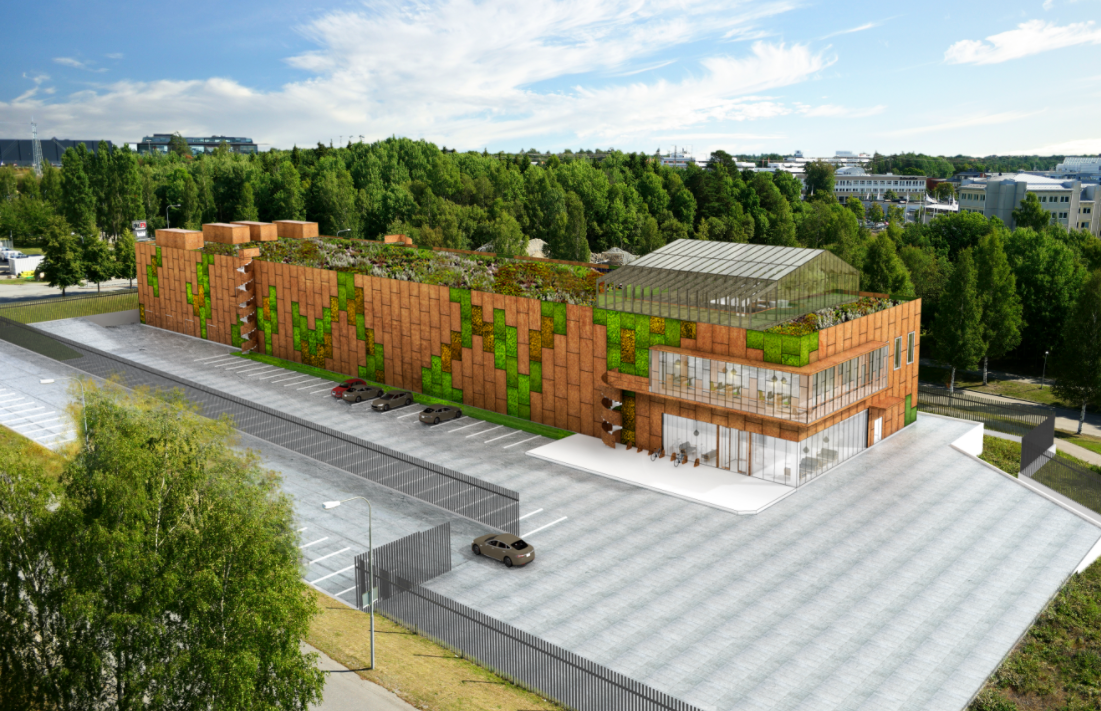 (Pressrelease, Stockholm, Sept. 5, 2017)  Multigrid Data Centers has completed the design and preparations for a highly efficient and sustainable 5 MW data center in Kista Science City in Stockholm, Sweden. The data center will be the first multi-tenant data center with renewable energy and heat recovery in a major European capital to reach a net energy cost of 3 Eurocent per kWh of IT-load.
Multigrid has entered agreements with the City of Stockholm regarding land, the distribution network operator Ellevio regarding high voltage power distribution and the district energy company Fortum Värme regarding heat recovery. Multigrid's project will be the first greenfield data center to be built in "Stockholm Data Parks – Kista", which is a joint offer by the City of Stockholm, Fortum Värme, Ellevio and STOKAB.
"Kista offers very attractive conditions for large scale data centers," says Mattias Ganslandt, CEO of Multigrid. "Kista is Northern Europe's largest cluster of IT companies. The combination with attractive energy prices for large scale data centers is quite unique."
Multigrid has developed a technology that is optimized to be cost effective and environmentally sustainable. An adaptation of distributed redundant infrastructure to the local conditions in Stockholm gives the data center a very attractive combination of capital expenditure and operational performance.
"With digitalization and the expanding use of information and communications technology, the demand for cost-efficient and sustainable data centers is growing," says Mattias Ganslandt. "We expect Multigrid's new data center in Kista to be at least 50% more efficient than traditional facilities."
The abundant supply of renewable electricity is a critical factor that will make computing in Stockholm internationally competitive. With the heat recovery included, the net cost of energy used in the data room drops to 3 Eurocent per kWh.
"We meet a lot of interest in Multigrid's forthcoming Stockholm data centers, both in the United States and in Europe," says Mattias Ganslandt. "Cost-efficiency, renewable energy and recycled heat is an attractive combination."
Multigrid expects that the heat recovery from servers in the new data center to the district heating network within a few years will reach 30 million kWh per year. Fully utilized, heat from the data center can heat up to 10,000 apartments connected to the district energy network.
"We have designed the data center to meet the growing demand for security and reliability," says Mattias Ganslandt. "With modern and urban architecture, the building is also designed to follow Stockholm's intention for a sustainable and attractive city."
Multigrids data center in Kista is scheduled to open on January 1, 2019.
For more information, press only:
Mattias Ganslandt, CEO, tel 070-519 45 24, mattias.ganslandt@multigrid.net
Gustav Bergquist, VP, tel. 073-513 00 90, gustav.bergquist@multigrid.net
About Multigrid
Multigrid designs, builds and owns sustainable and cost-efficient data centers optimized for exports and domestic provision of SaaS, PaaS, IaaS and more.